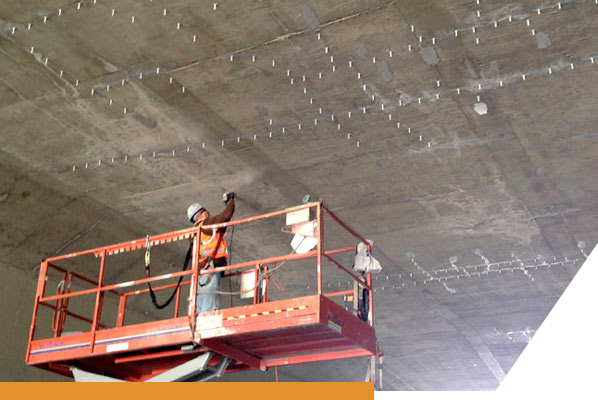 Conchem Technical Services is one of the most progressive and innovative concrete crack repair contractors in the UAE. Typically identified as the first sign of concrete distress, concrete cracks can occur due to various reasons and if not treated on time can lead to structural failure. Backed by a professional and experienced of group of professionals, we specialize in concrete crack repair epoxy injection and surface treatment of cracks using cementitious, epoxy, and polyurethane material. With any given project, we take the time to understand the nature of the problem and suggest the best mode of concrete crack filler epoxy treatment and ensure that the desired care is implemented.
In addition to concrete crack repair, our team also specialize in stopping leaks concrete using both the injection method using polyurethane and polyacrylic resins and the plugging method. For more details about our service or to receive a customized quote against your requirement, get in touch with our team today!
Our Service Inclusions
Brickwork and Concrete Foundation Repair
Crack Injections and Pressure Grouting
Structural Leak Sealing
Structural Strengthening using Carbon Fiber
Concrete Waterproofing
More About Our Structural Crack Repair Service
Cracking of concrete flatwork is natural, expected, and accepted. However, cracks may affect appearance, performance, and maintenance costs. For these reasons, building owners commonly want cracks in interior and exterior slabs repaired. Before choosing a crack repair option, concrete surfaces contractors should perform a crack evaluation and establish the concrete foundation repair objectives.
When evaluating a slab or performing a crack survey, always measure the crack widths and determine if steel reinforcement passes through it and whether the crack is active or dormant. This information, especially reinforcement details and crack activity, is extremely important when selecting the best repair option like concrete crack filler epoxy solution.
Structural concrete foundation repair typically involves using epoxy resins to bond or weld the concrete back together. Epoxy repairs not only seal cracks but also restore the strength and stiffness of the concrete. Use epoxy to repair only dormant cracks. Repairing an active crack with epoxy typically results in a new crack forming near the original, epoxied crack.
Concrete crack repair epoxy injection is a common means of installing epoxy into cracks, especially for vertical and overhead surfaces. But gravity filling works well and is the most common means of installing epoxy into cracks in flatwork or horizontal surfaces.