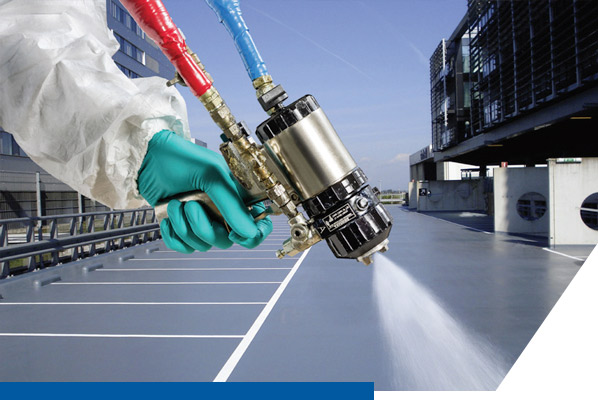 Polyurea floor coatings offers an advanced coating technology and is equipped with numerous benefits over traditional protective coatings such as bitumen, paints, vinyl esters, epoxy, and more. At Conchem Technical Service, we offer comprehensive solutions for waterproofing failures on roofs thanks to Polyurea protective coating. It is a permanent spray applied on existing surfaces to protect it against, corrosion, abrasion, and other weathering effects. The polyurethane floor coating is made from mixing an isocyanate component and a synthetic resin component. The coating is applied using a special pump and takes only 5 to 10 seconds to dry up.
Polyurea protective coating results from a reaction caused between isocyanates and resin blends, which together form a plastic or rubber-like compound. These are used in similar ways to other component coating technologies like epoxy or polyurethane but offers protection by combining the best features of both coatings. Conchem Technical Services has over 15 years of experience in Polyurea coating UAE. Hence, we deliver reliable and accurate results. All our polyurea floor coatings are high-quality, offer maximum protection, and are available in high pressure and low-pressure applications. For more information or to avail of our Polyurea protective coating service, reach out to us today!
Benefits of Polyurea Coatings
Polyurea protective coating is a special coating with exceptional physical properties. This makes it a better protective coating than rubber, paint, or other coating materials. Some of its properties include flexibility, durability, and resistance to corrosion, abrasion, and chemicals, to name a few. There are numerous benefits equipped with it. They are as follows:
High Thermal Resistance
Polyurea floor coatings can be applied in variable temperature conditions thanks to its stable heat resistance. It can withstand temperatures as low as -65ºF and as high as 350ºF.
VOC Compliant
Polyurethane floor coating produces no emissions as well as minimal to no odor which makes this coating VOC compliant and environmentally friendly.
High Chemical Resistance
Polyurea is designed to be resistant to harsh chemicals such as acid and petroleum-based products. It is highly suitable in areas where chemical spillage is a common concern.
Superior Tensile Strength
Unlike other polyurea floor coatings, which break when stretched, polyurea are engineered to have high tensile strength. They can stretch up to 800% and recover.
High Impact Resistance
Surfaces coated with polyurea have an improved impact resistance. This is due to the PVA fibers present in polyurea.
Sound Insulation
Polyurea protective coating UAE, are built with excellent heat transfer properties, therefore allowing it to maintain a cooler surface as opposed to those without any coating.
Polyurea Applications
Polyurea protective coating are suitable to use in a wide variety of industries across the UAE. They include the following:
Waterproof lining to tanks, pipes, roofs
Pools and water park
Military equipment
Emergency response vehicles (like ambulances, fire trucks) to extend their life cycle
Government building
Steel structures
Public art installations