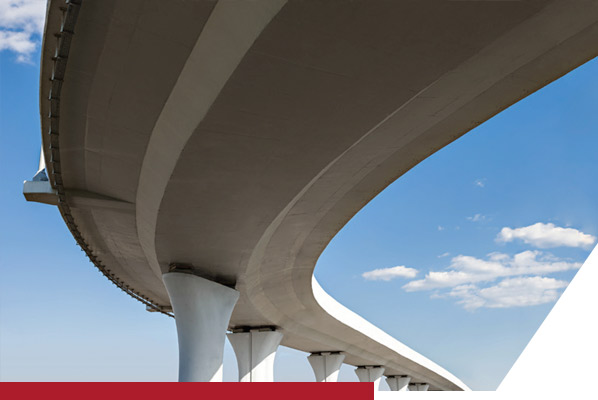 The surface is often the weakest part of any object, hence the need for concrete protective coating. When applied to the object's surface, it prevents damage caused due to harsh weather, further prolonging its life. Conchem Technical Services offers premium concrete protective coating solutions to major companies across UAE. We take pride in being approved by the leading international construction chemical companies and paint manufacturers as we have all the necessary qualifications and equipment to carry out projects. All our works comply as per international standards; therefore, customers can rest assured of zero compromises on the quality and final result.
With over 50 years' experience in the coating industry, our staff is qualified to perform surface preparation, protective coating application, and inspection using superior protective coating technology. We have NACE* qualified coating inspectors and bridge coating inspectors. If you seek concrete protective coating services in Dubai or across UAE, feel free to give us a call or request for a free quote against your requirements.
Our Services
Anti-Carbonation
We will protect your concrete surfaces with our anti-carbonation coatings and make them highly resistant to carbon dioxide. The anti-carbonation concrete protective coating will also act as a barrier against water, chloride, and other harmful substances present in the atmosphere.
Epoxy Flooring
Our epoxy floor coating consists of two distinct elements: an epoxy resin and a polyamine hardener. When these two components are mixed, they produce an epoxy coating with outstanding mechanical properties, such as hardness and durability, abrasion, impact, and chemical resistance. These attributes make epoxy coatings ideal protective coating for concrete floors subjected to heavy traffic.
Polyaspartic Coatings
Polyaspartic is a type of polyuria that produces remarkable coatings. Our Polyaspartic coatings come with various advantages such as ultra-fast installation, UV resistance, being applied at different temperatures, resistance to high impact, and high abrasion-resistance. They are suitable for garage floor coating, industrial flooring, concrete floor and countertops.
Why Protection is Needed for Concrete
Alkalinity
Alkali-aggregate reaction is a common reaction that takes place between concrete surfaces and alkaline substances in the atmosphere. To avoid this reaction, the simplest solution is to have a superior concrete coating.
Porosity
Concrete is naturally porous and quickly absorbs fluids. But concrete should be dense and non-porous not to compromise on its strength. The concrete protective coating can safeguard the concrete against water, oil leaks, grime, and fluids.
Moisture Content
Excessive moisture can affect the concrete's strength. To protect concrete against the ingress of water, acquire an excellent concrete protective coating. The coating from Conchem Technical Services will regulate how much moisture passes from within the concrete to the outside.
Tensile Strength
Flexible protective coatings such as polyurethanes and Polyaspartic tend to bond well with concrete surfaces, increasing their tensile strength. This makes the concrete surface resist impact and can handle some cracks.
Laitance
The milky, weakly crumbled layer of cement dust that appears on the concrete surface is known as laitance. It arises due to excessive water being added when mixing concrete, poor curing, or due to rain damage. To avoid laitance, it's vital to have a superior concrete protective coating.
Surface Defects
Concrete with a protective coating can survive impact, cracks, and defects resulting from high traffic.