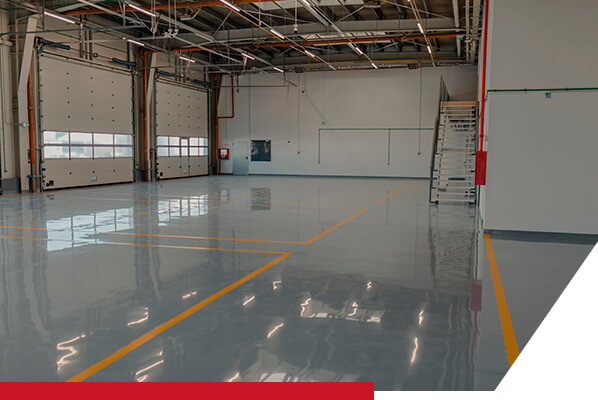 The industrial epoxy floor coating offered by Conchem Technical Service is defined by superior properties such as high adhesion power, impact resistance, elasticity, and power to fight damages caused by chemicals and solvents. With the use of low-cost concrete, the industrial floor coating is durable and has effective tensile strength making it one of the most widely used materials for industrial floors. Floor coatings are protective and tough and are used mainly in industrial and commercial areas where corrosion and surface wear and tear are common concerns. It is effective, low in maintenance, and is able to offer complete protection from any damage.
As professional industrial flooring contractors in UAE, we at Conchem Technical Services take pride in being the most sought-after choice for various industries. Be it a warehouse, manufacturing industry, or chemical plants, we are well equipped with the right equipment, resource, and crew to conduct the floor coating service efficiently and promptly. The stability offered by industrial flooring coatings makes it ideal for directing and organizing traffic routes and to cover up stained concrete floors. For more information on our industrial epoxy flooring service in UAE, give us a call or request a free quote against your requirements.
Solutions We Provide
We offer popular options in commercial flooring projects for both industrial and commercial facilities in Dubai and the wider UAE. The flooring solutions cater to all needs and requirements and are performed by experienced specialists who are known to deliver quality service. Our solutions entail the following:
Bespoke industrial flooring solutions for all business needs.
We make sure to use the best available materials to ensure quality performance and durability for your flooring requirements.
Epoxy resin flooring services with benefits including slip and erosion resistance and making the floor appear smooth and durable.
Concrete or coloured epoxy seal industrial floor services, including repairs and paints.
High build epoxy/polyurethane coatings, along with self-levelling epoxy/polyurethane resin floors.
We are experts in heavy-duty screeds, polished concrete, damp and erosion proof moisture floors, and epoxy floor repairs along with epoxy/polyurethane coating/skirting.
Our Process
We follow a highly strategic roadmap to deploy our industrial floor coating services, maintaining the quality and durability of the process at all times.
Substrate Preparation
We take pride in ensuring that the substrate preparation is given special attention in our processes. It refers to the entirety of activities that must be performed to ensure the material is ready prior to applying a protective coating or substance to the surface.
Repairs and Resurfacing
We offer repairs and resurfacing options for those who don't want to opt for a full-fledged floor change. Through this service, we beautify the entire space without reconstructing the flooring from scratch. It is a cost-effective approach to enhance the aesthetic of a room.
Flooring Installation
Our professional floor installation services are implemented by experts for easy and seamless floor lamination to ensure its longevity and for better performance. We offer different types of flooring and floor covering for residential and commercial depending on your specific requirements./p>