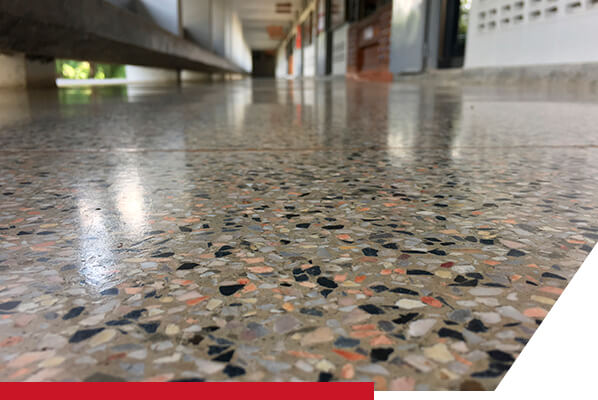 If you seek an elegant and uniquely designed floor for your space, terrazzo flooring is the ideal solution. As they are not commonly found, they add additional value to the premises. Conchem Technical Services specializes in epoxy terrazzo flooring across Dubai. Our team is adept and skilled, guaranteeing accurate installation, which makes them highly durable. This further eliminates the need to have the tiles replaced frequently. Terrazzo tiles are relatively stronger than most natural stones and are also resistant to a wide range of aggressive chemicals and liquids. They are the ideal solution for surfaces that experience high footfall and follow stringent aesthetic requirements. It is suitable to use in airports, museums, malls, hospitals, and parks. Terrazzo can also be incorporated in smaller projects such as villas, restaurants, and pool decks. Schedule an appointment with our epoxy terrazzo flooring experts today, and we'll gladly assist you with all the requirements.
Our Service Inclusions
Epoxy Terrazzo
Epoxy Terrazzo is 1/4 a ¼ or 3/8-inch-thick resign, usually placed on a concrete slab. It's the best "thin-set" system specifiable with synthetic, glass, or granite for a brilliant colored floor. They are available in a variety of colors, chemical-resistant, and have high tensile-compressive strength. The lightweight and flexible properties make it ideal to use in multi-storey buildings.
Cementitious Terrazzo
Cementitious terrazzo is thicker and relatively heavier than epoxy terrazzo. They come in a wide range of colors and ideal to use for both indoor and outdoor applications. It is a durable flooring system with no moisture vapor transmission concerns and has zero volatile organic compounds.
Benefits of Terrazzo Flooring
Terrazzo flooring places before you a wide range of benefits. It includes infrequent maintenance, thus increasing its lifespan and making it an affordable solution in the long run. Epoxy terrazzo floorings can be easily customized to different designs, colors, and textures, depending on the requirements. They are ideal to use across various applications in Dubai, especially those who seek a unique design for their premises. Listed below are the numerous advantages of using terrazzo flooring in Dubai.
Environmental-friendly
Affordable solution
Low maintenance
Comes in a variety of options
Resistant surface
Highly durable
High adaptability